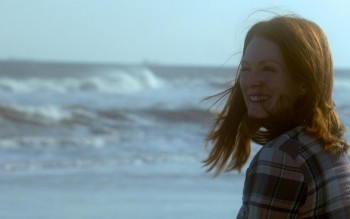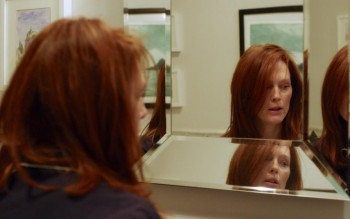 The Hollywood Reporter
: UPDATE, 11:35 AM: Sony Classics just confirmed the North American rights deal for Still Alice, which officially makes star Julianne Moore an Oscar contender for her performance as a cognitive psychologist who faces the early onset of Alzheimer's. Check out SPC's release after my original break.
Sony Pictures Classics has scooped up rights to Julianne Moore drama Still Alice, about a successful Columbia University professor coping with the early onset of Alzheimer's.
The well-reviewed independent drama, based on the best-selling novel by Lisa Genova, made its world premiere at the Toronto Film Festival Sept. 9 and stars Moore opposite Alec Baldwin, Kristen Stewart and Kate Bosworth. Maria Shriver is one of the film's executive producers.
Moore's performance has sparked early Oscar buzz for the actress.
Chronicling a harrowing disease that affects more than 36 million people worldwide, Still Alice stars Moore as a brilliant linguistics professor in slow decline, testing her marriage but reconnecting her with her youngest daughter. Richard Glatzer and Wash Westmoreland directed the film for Christine Vachon's Killer Films and Lutzus-Brown.
Producers are Lex Lutzus, James Brown and Pamela Koffler, with Vachon executive producing alongside Marie Savare, Shriver, Emilie Georges, Nicholas Shumaker, Celine Rattray and Trudie Styler.
Sony Classics has a long history with Moore, having distributed two of her breakthrough films, Vanya on 42nd Street (1994) and Safe (1995).
CAA packaged the project and represented domestic rights.
Deadline : EXCLUSIVE: Capping yet another busy day of Toronto deals, Sony Pictures Classics is closing a low-seven-figure deal for Still Alice, the pic written and directed by Richard Glatzer and Wash Westmoreland. The label plans to release the film for Oscar season. It has gotten strong notices for Julianne Moore, who stars with Alec Baldwin, Kristen Stewart, and Kate Bosworth. She plays a cognitive psychologist who faces the early onset of Alzheimer's. This is the first deal that calls for a berth in this year's Oscar race, though many said that the Michael Shannon-Andrew Garfield pic 99 Homes has the same kind of designs when it gets a deal. The deal was brokered by CAA. The film is playing in the Special Presentations section of the festival.