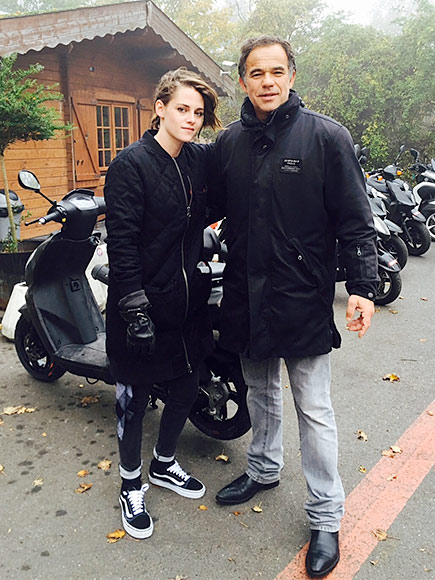 People.com
: It was far from an average day on set for Kristen Stewart as she began filming her new movie Personal Shopper in Paris on Tuesday.
The actress was spotted popping out of Cartier on the rue de la Paix, clad in a motorcycle helmet and juggling a number of shopping bags from the jewelry store and Christian Louboutin as she filmed a scene. Stewart then straddled a motor scooter while still juggling the merchandise and drove out into traffic, heading off toward the city's famed opera house.
The sequence was surprisingly daunting for the Twilight star: Her scooter-driving skills were fresh.
Stewart arrived in Paris over the weekend, and before boarding the bike on set (and driving into real city traffic) had only one day of experience.
French motorcycle racer Phillipe Monneret, who coached the star, tells PEOPLE the actress had a three-hour driving session on Monday at a closed circuit track in Meudon to prepare. This was followed by one hour of real time driving on the Paris streets before Tuesday.
"She took to it, picked it up, real quickly. It seems to amuse her," Monneret tells PEOPLE. "She's really very athletic."
Monneret had Stewart ride a 125 cc motorcycle to give her the feel and teach her the basics. For Personal Shopper, the actress will mount a Peugeot 50 cc scooter.
"It's a smaller bike and she's doing well with it," he says, adding, "She's very game. Nothing put her off."
Stewart's on-the-street scenes continue this week before the production – which unites her with her Sils Maria director Olivier Assayas – heads on to London, Prague and Oman.
Monneret, who has coached a number of French actors for driving roles, says Stewart was the first American actress he'd trained.
"I know she'd won a Cesar but I'd no idea who she was," he confesses, "My daughters though, they know."
Personal Shopper is a ghost story set in the fashion underworld in Paris, according to Variety.