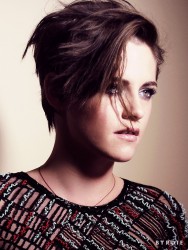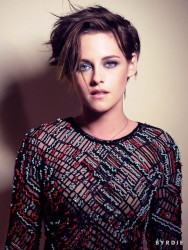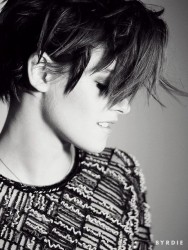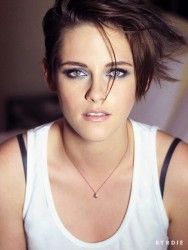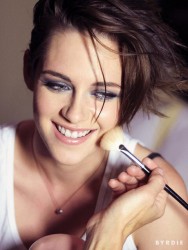 Byrdie.com : Exclusive: What It's Like to Get Ready with Kristen Stewart.
"Sultry, edgy, lash-y," makeup artist Jillian Dempsey says, when we asked her to describe the look she created for Kristen Stewart at the New York premiere of Stewart's new movie, Camp X-Ray. "The look is pretty lash-y, don't you think? Her eyes are so expressive—I definitely wanted to play them up." And play them up, she did. Stewart's final eye makeup look was an ethereal combination of inky black eyeliner, an iridescent smoky eye, and a full, lush fringe—a smoky eye from our haziest daydreams.
We sent photographer Hadar Pitchon behind the scenes to capture the magic as it was happening, and chatted with Dempsey to find out what it's really like to get ready with Stewart for a big event. Hint: Don't expect any red lipstick.
"I walked into the room, and [Stewart] was just finishing getting a haircut," Dempsey reveals. "Her cut is so incredible—it had that perfect David Bowie-esque, androgynous thing going on." The short, swingy cut by hairstylist Giannandrea inspired Dempsey to focus on one of Stewart's defining features: her eyes. "When I originally went into the job, I thought I would be doing some sort of '60s look on her," Dempsey reveals. "That was before I saw the cut, so it's always a good lesson to learn that, as a makeup artist, you can never really arrive with a pre-conceived notion of what you want to do."
Drawing her color palette from the mint detailing in Stewart's beaded J. Mendel dress, Dempsey used Chanel's Quadra Eye Shadow ($59) in Fascination to create a shimmery, dreamy, ocean-esque eye makeup look. "In the Fascination quad, there's this color that I use—it looks a little more mint, and I wanted it to match the mint color in her beaded dress, but then it actually projects a little more on the blue side," Dempsey says. "I went in the inner corner of her eyes in a sideways V, along the lash line, and under the lash line. I followed with a lot of the deeper tone in that quad—it's like a charcoal black—on her top lid to give it a more punk rock definition. Then, as my last finishing move, I put that aquamarine color on top of it again."
To add even more definition, Dempsey reached for the Khôl Eyeliner ($20) from her own eponymous makeup line to trace along Stewart's lid. "I tightlined below her lashes, then drew it in above her lashes in small strokes," she says.
Since the focus of this look was Stewart's eyes, Dempsey upped the oomph factor with a couple of well-placed individual lashes on the outer corner of her lash line. But first, she applied a coat of Chanel's Le Volume de Chanel Mascara ($30) in Noir. "The best thing with mascara is that you can take it north, south, east, or west, if you want to," she says. "For [Stewart's] bottom lashes, I wanted them to look a little plumper without looking twiggy, so I just used the very tip of the mascara wand and went back and forth to make them fuller."
As for her skin, it was all about keeping things natural and shine-free. "I wanted her skin to look as matte as possible for tonight—I didn't want to load it up," Dempsey tells us. To achieve that perfect balance, she reached for Chanel's Lumière Long-Wear Flawless Fluid Sunscreen Makeup SPF 15 ($57) in 40 Beige, which she mixed with a little moisturizer for sheer, barely-there coverage. When it comes to application tricks, Dempsey says less is more: "If you don't need to wear a lot of foundation, don't—just buff it out with a sponge or brush, then feather it out."
To add just a bit of contour, Dempsey used a matte sculpting powder and applied it in the hollows of Stewart's cheeks with a fan brush. When we asked her for at-home contouring tips, she was more than happy to share a tried-and-true trick. "Suck in your cheeks for the 'fish' look," she says. "It looks really stupid and it seems like everyone uses this technique, but it does help to guide your hand in the exact area you want to place your brush and blend it out. It's a helpful start."
Because the main focus of the look was Stewart's smoldering gaze, Dempsey reached for a sheer, subtle nude lipstick to finish things off—namely, Chanel's Limited Edition Rouge Allure Luminous Intense Lip Colour ($35) in Précieuse, which Dempsey describes as "a light nude with a tiny bit of iridescence". "I hope it's still there," she wonders out loud. "I always start [Stewart] off with a lip, but she doesn't really ever carry a clutch, so you never know!"
When it comes to Stewart's involvement in her makeup process, Dempsey says she's—no surprise here—super laid-back. "I feel like we collaborate really easily," Dempsey says. "Sometimes she'll show me images or looks she likes, but she isn't a dictator. She's open and she likes to play and have fun. She never shuts off anyone's ideas."
The one thing Stewart isn't exactly prone to, however? "She has to really be in the mood for a red lip," Dempsey laughs. "I have to forewarn her if I'm thinking of doing one—it's too much maintenance and a big commitment for the evening." We see the logic in that, but we also can't think of a better person than Stewart to pull off a lived-in, smudged, IDGAF lipstick look on a red carpet—something to look forward to in the future, perhaps?